Organic Gardening Intercropping
Intercropping is the agricultural practice of cultivating two or more crops in the same space at the same time (Andrews & Kassam 1976). A practice often associated with sustainable agriculture and organic farming, it is one form of polyculture, and may benefit crop yield or the control of some kind of pest, or may have other agronomic benefits.
- Wikiopedia
The bottom line, this type of organic gardening plant integration allows for greater plant diversity for increased crop production and pest control.
Benefits of Organic Gardening Intercropping
Better use of growing area
Increased insect pest and disease resistance
Increased yields per area grown
Increased weed suppression
Increased soil microorganism activity
Plant diversity creates overall plant health
Better long term soil use
Trap cropping for pest control
Physical Spatial Interactions
Nurse Cropping – one crop sacrifices for another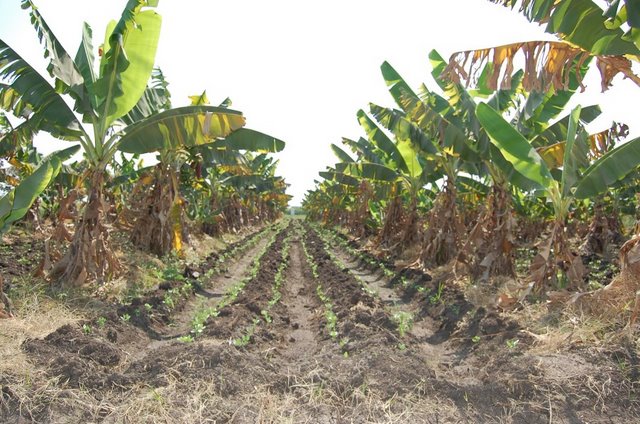 Examples of Organic Gardening Intercopping
Vertical spacing. When you intercrop your vegetables consider the vertical spacing available in your garden. Vegetables species have different verticle requirements and can be grown on trellises. Squash, beans, cucumbers, peas, melons and tomatoes are just a few examples.
Direct Sun. During the main growing period, usually May through August the sun is at its brightest. The sun's location governs where you might locate low growing or tall growing plants. Locate tall plants on the north (south in the southern hemisphere) side of the garden. The sun will heat the south part of the garden for heat loving plants. Alternately, if you locate tall plants on the south side of the garden there will be light shade on the north side to include shade-loving plants. Shade-loving plants that can be intercropped with sun-loving plants include beans, beets, chard, leeks, lettuce, peas, radishes, and turnips.
Structure and foliage. Intercropping also involves using plants with opposite structure and foliage. Plants that have large structures or leaves, such as corn and squash, can provide a shelter and filtered sun for lower, larger leaved plants such as lettuce. Corn stalks also provide support for vegetable vines.
Timing. If you time your plantings correctly this will also help to inter-plant your vegetables. Lettuce can handle the light sun of spring and fall, but requires protection during the heat of summer. When lettuce receives too much heat they tend to bolt (go to seed). Also keep in mind the length of time it takes a vegetable species to mature; radishes for example are super fast maturing, while peppers may take the entire summer. Try to intercrop slow growing vegetables with fast growing vegetables.
Inserted vegetables. Many narrow leafed plants such as onions, leeks, shallots, and garlic can easily fit between many leafy vegetables. But, consider the plant's feeding requirements. Plants placed close together will compete for nutrients in the root zone. Select plants that have different feeding requirements.
Intercropping Combinations
I've taken the liberty of combining the intercropping with a tradition approach called companion planting for simplicity sake. I believe in keeping it simple. Companion planting in my opinion is not an exact science, but it points to some very interesting combinations and many oraganic gardeners swear by it.
The table below was compiled from traditional literature on companion planting, which to me is intercropping.
| | |
| --- | --- |
| Crop | Intercrop With |
| | |
| | |
| | |
| Cabbage Family | Aromatic Herbs, Celery, Beets, Onion Family, Chamomile, Spinach, Chard |
| Carrots | |
| | Onion, Cabbage Families, Tomato, Bush Beans, Nasturtium |
| | |
| | Beans, Marigold |
| | |
| Onion Family | |
| | |
| | |
| | Beans, Corn, Marigold |
| | |
| | Strawberry, Beans |
| | Nasturtium, Corn, Marigold |
| | Onion Family, Nasturtium, Marigold, Asparagus, Carrots, Parsley, Cucumber |
| Turnip | Aromatic Herbs, Celery, Beets, Onion Family, Chamomile, Spinach, Chard |
Intercropping for Pest Control
Intercropping reduces pests in a variety of ways, including:
Chemical Repellent - These plants provide odors that confuse and ward off pests. This works best in intensive intercropping.
Parasitic Wasp Host Plant - These plants provide food and shelter for parasitic wasps as they search for pests.
Parasitic Wasp Increase - Intercropping plants attract parasitic wasps as a food source from either the plant or the pests.
Physical Interference - These plants "get in the way" of the pest as either a physical barrier or life cycle interference.
Predator Increase - These plants act as a food source or breeding ground for beneficial insects as they search out for pests.
Trap Crop - Another form of Intercropping is Trap cropping. Trap cropping encourages pests to congregate, which makes it easier for beneficial insects to prey and for handpicking.
Visual Masking - These plants provide a visual mask that confuses the pest or concealed the main crop.
Pest Control Intercropping Matrix
Pest Reduced

Crop

Intercrop With

Function Of Intercrop

Aphids

Apple

Eryngium sp.

Parasitic Wasp Increase

Phacelia sp.

Parasitic Wasp Increase

Barley

Alfalfa

Parasitic Wasp Increase

Red Clover

Parasitic Wasp Increase

Parasitic Wasp Increase

White Clover

Visual Masking

Clover

Physical Interference

Visual Masking

French Beans

Physical Interference

Red Clover

Physical Interference

White Clover

Predator Increase

Corn Spurry

Predator Increase

Red Clover

Physical Interference

White Clover

Predator Increase

Collards

Weedy groundcover

Parasitic Wasp Increase

French Beans

Weedy groundcover

Physical Interference

General Organic Garden Crops

Queen Anne's Lace

Trap Crop

Parasitic Wasp Increase

Lamb's Quarter

Trap Crop

Annual Sow thistle

Trap Crop

Kale

Kale

Visual Masking

Red Clover

Predator Increase

Catnip

Chemical Repellent

Chemical Repellent

Chemical Repellent

Grapes

Blackberry

Parasitic Wasp Host Plant

Cole Crops

Similar Sized Crops

Chemical Repellent

Predator Increase

Corn Spurry

Predator Increase

Cole Crops

Similar Sized Crops

Chemical Repellent

Predator Increase

Turnip

White Clover

Chemical Repellent

White Clover

Visual Masking

Clover

Predator Increase

Chemical Repellent

Apple

Weedy groundcover

Parasitic Wasp Increase

Catnip

Chemical Repellent

Nasturtium

Chemical Repellent

Chemical Repellent

Soybean

Cassia sp.

Parasitic Wasp Increase

Croton sp.

Parasitic Wasp Increase

Desmodium sp.

Parasitic Wasp Increase

Soybean

Parasitic Wasp Increase

Weedy ground cover

Parasitic Wasp Increase

Soybean

Predator Increase

Wild Parsnip

Parasitic Wasp Increase

Chickweed

Wild Parsnip

Parasitic Wasp Increase

Lady's Thumb Smartweed

Parasitic Wasp Increase

Shepherds Purse

Parasitic Wasp Increase

Wild Mustard

Parasitic Wasp Increase

Wild Parsnip

Parasitic Wasp Increase

Hawthorn

Trap Crop

Physical Interference

Giant Ragweed

Trap Crop

Peanuts

Visual Masking

Beans

Predator Increase

Physical Interference

Predator Increase

Beggertick

Predator Increase

Goldenrod

Predator Increase

Mexican Tea

Predator Increase

Pigweed

Predator Increase

Pigweed

Parasitic Wasp Increase

Collards

Weedy ground cover

Visual Masking

Corn Spurry

Predator Increase

Red Clover

Physical Interference

White Clover

Predator Increase

White Clover

Chemical Repellent

Chemical Repellent

Collards

Tobacco

Chemical Repellent

Chemical Repellent

Wild Mustard

Predator Increase

Ragweed

Chemical Repellent

Chemical Repellent

Cole Crops

Candytuft

Chemical Repellent

Shepherds Purse

Chemical Repellent

Wormseed Mustard

Chemical Repellent

Peppers

Catnip

Chemical Repellent

Nasturtium

Chemical Repellent

General Organic Garden Crops

Parasitic Wasp Increase

Parasitic Wasp Increase

Collards

Lamb's Quarter

Predator Increase

Pigweed

Predator Increase

Xanthium stramonium

Predator Increase

General Organic Garden Crops

Queen Anne's Lace

Trap Crop

Parasitic Wasp Increase

Trap Crop

Rose Geraniums

Trap Crop

Mustard

Trap Crop

Cole Crops

Similar Sized Crops

Chemical Repellent

Predator Increase

Chemical Repellent

Red Clover

Physical Interference

White Clover

Predator Increase

Catnip

Predator Increase

Predator Increase

Weedy ground cover

Predator Increase

Visual Masking

Anise

Chemical Repellent

Lamb's Quarter

Predator Increase

White Clover

Visual Masking

General Organic Garden Crops

Queen Anne's Lace

Parasitic Wasp Increase

Orchard Crops

Knotweed

Trap Crop

Marigolds

Trap Crop

Roses (White)

Trap Crop

Soybean

Trap Crop

Zinnias

Trap Crop

Leaf Beetles

Beans

Predator Increase

Physical Interference

Predator Increase

Soybean

Barley

Predator Increase

Wheat

Predator Increase

Sorghum

Chemical Repellent

Sweet Potatoes

Parasitic Wasp Increase

Beans

Predator Increase

Physical Interference

Predator Increase

Beans

Goosegrass

Chemical Repellent

Red Spragletop

Chemical Repellent

Soybean

Beans

Trap Crop

Grapes

Johnson Grass

Predator Increase

Kale

Predator Increase

Sudan Grass

Predator Increase

Fruit Trees

Alder

Predator Increase

Rye

Predator Increase

Sorghum mulch

Predator Increase

Wheat

Predator Increase

Peach

Strawberry

Predator Increase

Goldenrod

Predator Increase

Lamb's Quarter

Chemical Repellent

Ragweed

Chemical Repellent

Smartweed

Chemical Repellent

Apple

Eryngium sp.

Parasitic Wasp Increase

Phacelia sp.

Parasitic Wasp Increase

Soybean

Sicklepod

Trap Crop

Clover

Physical Interference

Physical Interference

Physical Interference

Physical Interference

Physical Interference

Apple

Weedy ground cover

Parasitic Wasp Increase

Thrips

Predator Increase

Pea

Predator Increase

Visual Masking

Borage

Trap Crop

Dill

Trap Crop

Fruit Trees

Nasturtium

Chemical Repellent
Retun to the top of Intercropping