Organic Gardening Compost
---
Free Organic Gardening Compost eBook! Now you can take OrganicGardenInfo's valuable Composting guide with you.
---
Gardening Compost Is Your Soil's Main Source of Food
That's right… gardening compost is food for your soil. Using many different ingredients in your compost will supply and replenish all the important nutrients that your soil needs for healthy crop growth and increase insect pest resistance.
Making your own organic gardening compost will also help reduce unnecessary garden waste going to landfill! (Nice benefit in this age of "waste"), and it's much better to create your own fertilizer instead of throwing away perfectly good organic material. Compost will significantly save you money on expensive fertilizers, as well.
If you want to be successful at organic gardening then there is no compelling reason NOT to make your own compost! In my opinion – organic gardening and compost are synonymous.
The Benefits
All soils will benefit from the use of organic gardening compost. Compost helps neutralize soils with extreme conditions. If the soil is sandy and has rapid drainage, compost can help the structure by adding more bulk with humus and organic matter and increase the soil's water holding retention abilities.
Soils with fine soil structure (clay, clay-loam) will benefit, because compost will increase porosity by adding humus and organic matter. Compost will also make these fine-textured soils easier to work with and erosion resistant.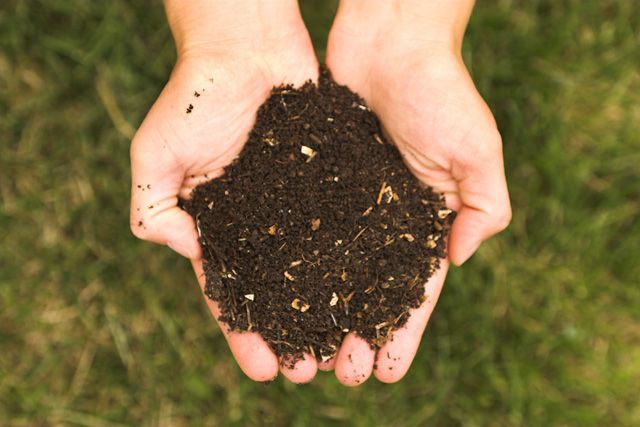 Humus – The Soil's Glue
Humus is an important by-product of compost. Humus results from decomposition of all the organic matter you place in your compost (see Ingredients for your Compost below). Humus acts like glue that holds all the soil particles together, and it helps prevent erosion and increases a soil's moisture holding ability.
Compost is like a Casserole of Garden and Kitchen Stuff placed in a Croak Pot
Simply stated - organic gardening compost is a mixture consisting mainly of decaying organic matter for fertilizing crops, gardens, and yards. Making compost from garden and household waste (stuff) is one of the most important functions an organic gardener can do. It's easy and inexpensive and uses little effort. Just let it rot! That's what I do. I RARELY turn my compost.
Compost Ingredients consists of most kitchen food waste and garden surplus organic matter. The ingredients are pretty much everything except the kitchen sink! Composting is even able to neutralize pesticides!
When you begin composting you should never have stuff in a green recycling bin, except maybe pernicious perennial weeds. Stop giving your organic matter away! Use it to feed your soil.
Ingredients for your Compost
Cardboard
Coffee grounds
Cooked food
Egg shells
Fall leaves
Fish (bury well-attracts vermin)
Fruit and vegetable scraps
Grass cuttings
Junk Mail
Meat (bury well-attracts vermin)
Old straw & hay
Paper based Egg boxes
Paper towels & bags
Plant material

Rodent bedding
Sawdust
Soft prunings
Tea bags
Tree and shrub clippings
Tree Leaves
Vegetable plant remains
Weeds
Wood ash
Wood shavings
Woody prunings

DO NOT USE IN YOUR COMPOST

Cat feces (can be buried around ornamentals)
Cat litter
Coal ash
Disposable diapers
Dog feces (can be buried around ornamentals)
Human waste



---
Custer Community Organic Garden. Their mission is to provide local residents with an opportunity to come together for the purpose of organic food production, environmental education and to encourage multi-generational gatherings.
---
Jane Goodall's Roots & Shoots, is an education program for kids. Roots & Shoots encourages kids to implement sensible positive modification for people, animals and also the environment by providing lecturers with free resources and activities.
---