Organic Vegetable Garden Beds
Why Garden Vegetable Beds?
For most of us, we don't have a lot of space for our organic vegetable garden. We need to conserve space and at the same time, we need that space to be more productive than conventional vegetable gardening and commercial agriculture.
Conventional vegetable gardening, with row cropping, takes up too much space and isn't that productive as gardening beds. Modern "Green Revolution" commercial agriculture requires high inputs, mines the soil, and isn't as productive as gardening beds.
Garden Beds are more productive, because they conserve space, water, and fertilizers inputs.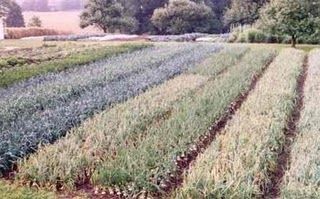 Onions, avg yield 380lbs/100 sq ft
From harmony-essentials.com
Disadvantages of Conventional Vegetable Gardening
Vegetables raised in rows are subject to fluctuating temperatures, because of the high and low moisture content and the sides of the rows are exposed to the extremes of air and sun.
A row crop garden takes up to four times the space as gardening beds.
The wide spacing between the rows encourages more weeds.
Soil cultivation is shallow placing the plants in a stressful state.
Harvesting (standing between rows) and machines compacts the soil, making it difficult for plant and root growth.
Irrigation floods the soil, drowns the roots, and washes soil from the rows and upper root zone.
Organic Garden Beds
I subscribe to a revolutionary method of growing vegetables in gardening beds called GROW BIOINTENSIVE © Ecology Action. GROW BIOINTENSIVE bed preparation is phenomenal, and is the method I've used for the last 25 years. They're also referred to as Lazy-Beds, because once they're prepared there's not that much work required afterwards. I first started using GROW BIOINTENSIVE in college, while I was gaining my Agriculture Business major. That was when organic gardening was considered on the edge, and I didn't get much support from my professors.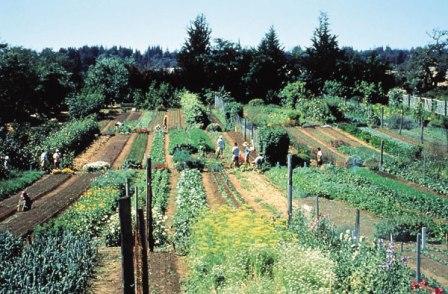 Large Scale Garden Beds
by University of California, Santa Cruz
For the sake of simplicity, I will refer to GROW BIOINTENSIVE beds as "gardening beds." I apologize up front if this in anyway depreciates this great method, but I find it simpler to explain. To get an in-depth education in GROW BIOINTENSIVE, I HIGHLY recommend investing in the book How to Grow More Vegetables, Eighth Edition: (and Fruits, Nuts, Berries, Grains, and Other Crops) Than You Ever Thought Possible on Less Land Than You ... (And Fruits, Nuts, Berries, Grains,)
. This book will be the most important gardening book in your library.
Circular gardening beds
Copyright © GlobalGiving Foundation
---
A nice library source for Sustainable organic gardening and farming.   Daniel Boone Regional Library
---
Advantages of Garden Beds
Deep soil preparation creates great soil structure. On established mature beds, shallow cultivation can be used for several years until compaction requires deep soil preparation.
Fertilizing Garden Beds using organic fertilizers and compost is a significant factor of soil fertility and soil organic matter.
Close plant spacing is practiced as it is in nature.
Carbon-efficient crops are grown on 60% of the growing area (main winter cover crop) in a year for grain (calories) and large amounts of organic matter for composting.
Crop production in vegetable garden beds can be 4 or more times higher than conventional agriculture.
Dependence on outside sources of fertilizers is reduced because of the heavy use of compost and cover crops.
Less Water usage can be significantly less than conventional vegetable rows, because of close planting spacing (shades the soil) and improved soil structure.
Home › Vegetable Garden Beds
Return to the top of Vegetable Garden Beds