Parasitic Nematodes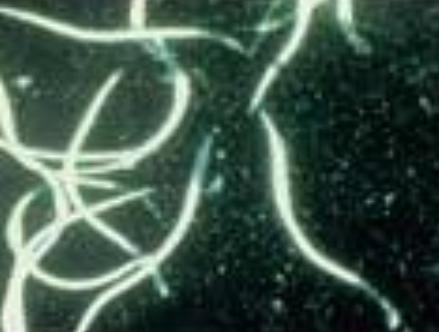 View more pictures: Bing Images Google Images Yahoo Images
Common names: Parasitic Nematodes, Beneficial Nematodes
Scientific name: Neoaplectana carocapsae, N. glaseri, Heterorhabditis bacteriophora, H. heliothidis
These Nematodes are totally safe biological control, superior to many chemicals.  They only attack insects which have a larvae stage in the soil or which regularly crawl across the soil surface.  They are harmless to humans, pets, birds, earthworms, honeybees, and most beneficial insects.
Feeding characteristics: In the soil, these Nematodes actively search for insect hosts.  Some even move to the surface of the soil to make contact with a passing insect.  Once it enters the host's body, the tiny worm employs a symbiotic bacterium to digest its meal.  The bacterium soon kills the insect within 48 hours.  The insects that it regularly feeds on are:  Borers, Cabbage Maggot, Root Weevils, Cutworm, Beetle grubs, Eastern Field Wireworm, Japanese Beetle, June Beetle, Army Cutworm, Northern Mole Cricket, Flies.
---
Purchase Beneficial Nematodes at Organic Garden eStore.
---
Return from Parasitic Nematodes to Insects M-P Encyclopedia of Garden Insects