Walkingstick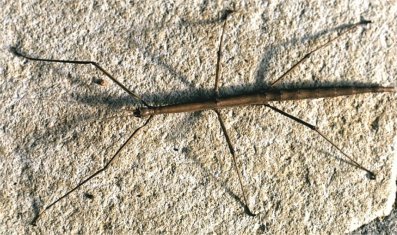 View more pictures: Bing Images Google Images Yahoo Images
Common names: Walkingstick
Scientific name: Diapheromera femorata
Region: This insect is found in the eastern portion of the United States.
Life cycle: This insect produces just one generation each year and overwinters as an egg.
Physical Description: This 3-inch long insect is brown or dark green, very thin with a body like a stick, and can easily camouflage itself in trees and shrubs.  Its eggs are black and are deposited on the ground.
Feeding characteristics: The insect is common to the cherry tree and may feed extensively on the foliage, but damage is never serious.
Controls: None required, damage is never serious.
Return from Walkingstick to Insects U-Z Encyclopedia of Garden Insects