Spotted Grapevine Beetle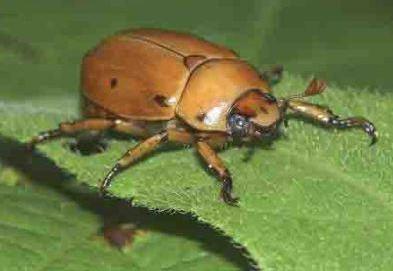 View more pictures: Bing Images Google Images Yahoo Images
Common names: Spotted Grapevine Beetle, Spotted pelidnota, Spotted June beetle
Scientific name: Pelidnota punctata
Region: This Caterpillar is found throughout North America.
Life cycle: This insect produces one generation each year and hibernates as a mature larva.  Its only in the adult stage for two months.
Physical Description: This 1" long, light brown, shiny beetle has 6 black spots on the wings.  The larva is a large white grubs that prefer well-rotted wood matter.
Feeding characteristics: The adults feed on grape leaves and, if numerous, may cause damage.
Controls: If the number of infested plants is small, hand pick the insects.
Also see Grapevine Beetle
Return from Spotted Grapevine Beetle to Insects Q-T Encyclopedia of Garden Insects