Broadwinged Katydid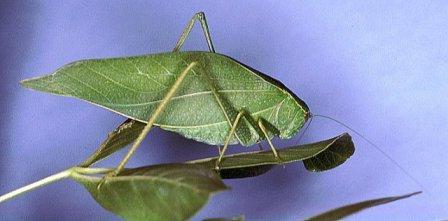 View more pictures: Bing Images Google Images Yahoo Images
Common names:  Broadwinged Katydid
Scientific name:  Microcentrum rhombifolium
Region:  This katydid is found in most of the United States, but not in the northern regions.
Life cycle:  This insect produces one generation each year and overwinters as an egg.
Physical Description:  This 1 1/2 inch long insect is green with large wings.  Its eggs are gray to brown, flat and are laid on twigs in double rows.
Feeding characteristics:  The Katydid can be found on many orchard trees and feeds on foliage.  Since there are very few of them, the damage is insignificant.
Controls:  No controls are necessary, since the numbers of this insect remain small and damage is small.
Return from Broadwinged Katydid to Insects A-D Encyclopedia of Garden Insects